LANTARENVENSTER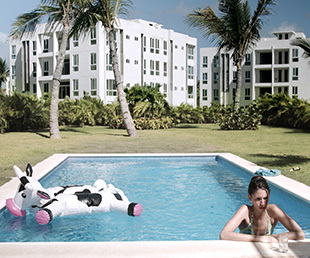 Special
SITE OF SITES
EL SITIO DE LOS SITIOS
Natalia Cabral, Oriol Estrada
DO
2016
61'
Spaans gespr.
Engels ond.
Deze voorstelling is verlopen
Terwijl aan de ene kant van het toeristische eiland in de Cariben wordt gegolfd, gezwommen in privébaden, geluierd en loom gedommeld, werkt aan de andere kant de lokale bevolking voor een grijpstuiver om dat allemaal mogelijk te maken. Wie kent niet het ongemak dat je overvalt bij het bezoeken van dergelijke vakantiebestemmingen.
Site of Sites laat het op zijn indringendst zien. Een koel drankje wordt aanbevolen.
One side of this tourist island in the Caribbean is a world of golf, private pools and relaxation, while on the other side the local population works for next to nothing to make it all possible. Who hasn't experienced the discomfort when visiting such holiday destinations? Site of Sites shows it at its most poignant. A cool drink is recommended.
Deze voorstelling hoort bij:


Architecture Film Festival Rotterdam 2017
Evenals:
It's all a Plan
Samurai architect, Tadao Ando
Five Seasons: The gardens of Piet Oudolf
Toon alle 7 voorstellingen