LANTARENVENSTER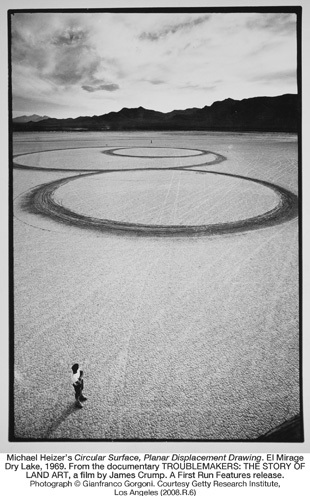 Special
TROUBLEMAKERS: THE STORY OF LAND ART
James Crump
US
2015
74'
Engels gespr.
Geen ond.
wo 29 nov | 19:30
KOOP KAARTEN
"My new paintbrush is a Caterpillar", zei ooit de New Yorkse kunstenaar Walter De Maria. Daarmee doelde hij niet op het diertje, maar op een bulldozer met rupsbanden. De Maria was een vertegenwoordiger van een opmerkelijke kunststroming die eind jaren 60 kwam opzetten: de Land Art. Niet alleen hij, maar ook Robert Smithson en Michael Heizer wilden zich in hun creativiteit niet langer beperken tot het onbeschilderde canvas of het onbewerkte stuk steen – zij hadden meer ruimte, meer materiaal nodig. Aldus ontstond de Land Art, waarbij zij, en ook anderen, in het zuidwesten van de VS compromisloze werken schiepen van monumentale afmetingen, die het landschap herschiepen, daarmee de grenzen van de traditionele kunst op revolutionaire wijze overschrijdend. Hun werk moest vooral ontzag en verbazing bij de toeschouwer inboezemen.
Aan de hand van zelden vertoond archiefmateriaal, interviews met betrokkenen en veel vanuit de lucht gefilmde beelden brengt regisseur James Crump deze kunstbeweging en haar aanhangers in beeld.
Voor het eerst toont een film een uitgebreid overzicht van die eerste jaren van experimenteren in een fascinerend landschap. Landschapsarchitectuur met een ongekende dimensie.
Troublemakers they called themselves. The artists who abandoned their New York studios in the 1960s to work in the empty landscape in the western states. The first land art was the result: huge indentations in the land, circles of sand ridges in the water. Walter de Maria, Robert Smithson and Michael Heizer astonished the world. This is the first film to offer an extensive overview of those early years of experimentation in a fascinating landscape. Landscape architecture of unprecedented dimensions.
Deze voorstelling hoort bij: