LANTARENVENSTER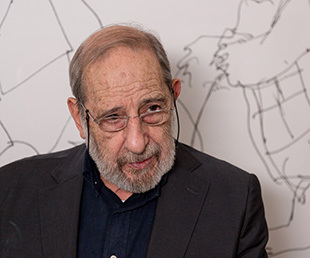 Special
HAVING A CIGARETTE WITH ALVARO SIZA
Iain Dilthey
GB
2017
52'
Portugees gespr.
Engels ond.
Deze voorstelling is verlopen
Mooi filosofisch portret over Álvaro Siza. Een film waarin hij uitgebreid vertelt over de achtergronden van zijn ontwerpen en zijn persoonlijke motieven. Het gesprek dat hij daarover voert met collega architect Souto de Moura is nu al historisch. Twee grootmeesters op zoek naar de essentie van schoonheid.
Leuk feitje: Alvaro Siza is de architect van het gebouw van LantarenVenster, New Orleans!
Wonderfully philosophical portrait of Álvaro Siza. A film in which he talks extensively about the background to his designs and his personal motives. His conversation on the subject with fellow architect Souto de Moura is already legendary. Two grand masters in search of the essence of beauty.
Voorfilm:
Wandenkolk
Bruno Firmino | BR | 18'
De toenemende interesse in groene architectuur – gebouwen die letterlijk gewikkeld zijn in hangende tijden, stuken en boomplantages op het dak – is niets nieuws voor de Braziliaanse architect Wandenkolk Tinoco. Deze opbeurende film biedt een overzicht van zijn groene ontwerpen die niet alle klimatologisch maar ook sociaal effectief zijn.
The growing interest in green architecture — buildings that are literally wrapped in hanging gardens, shrubs and tree plantations on the roof — is nothing new to Brazilian architect Wandenkolk Tinoco. This uplifting film offers an overview of his green designs that are not only climatologically effective but also socially effective.
Erna:
The Williamsburg Houses
Irene Bartolomé, Tessa Rex | US | 13'
Aan de hand van gesprekken van de bewoners en beelden van de architectuur wordt een beeld geschetst van het leven in de eerste sociale woningbouwprojecten van New York, ontworpen door Morris Lapidus.
Discussions with residents and images of the architecture paint a portrait of life in the first social housing projects of New York, designed by architect Morris Lapidus.
Deze voorstelling hoort bij:


Architecture Film Festival Rotterdam 2017
Evenals:
Lutah: A Passion for Architecture, A Life in Design
Roger D'Astous
The Destruction of Memory
Toon alle 31 voorstellingen