LANTARENVENSTER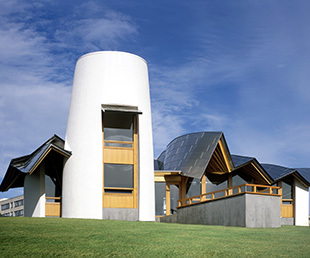 Special
BUILDING HOPE: THE MAGGIE'S CENTRES
Mike Dorsey
US
2016
59'
English gespr.
MET INLEIDING Deze voorstelling is verlopen
Nadat bij haar ongeneeslijke kanker was geconstateerd startte Maggie Keswick Jencks, de vrouw van de beroemde architectuur historicus Charles Jencks, een uniek initiatief: de bouw van een reeks bijzondere centra voor kankerpatiënten.
Twintig jaar na haar dood in 1996 zijn er inmiddels, met steun van veel particuliere instanties, in Groot-Brittanië twintig centra gebouwd door beroemde architecten als Frank Gehry, Zaha Hadid, Norman Foster en Richard Rogers. Haar overtuiging dat bijzondere architectuur een troostrijke omgeving kan bieden wordt gedeeld door patiënten, verpleegkundigen en bezoekers.
Building Hope is een fascinerende film over de zoektocht naar de schoonheid van architectuur in het licht van de aangekondigde dood.
After she was diagnosed with terminal cancer, Maggie Keswick Jencks, the wife of the celebrated architecture historian Charles Jencks, launched an initiative to build a series of remarkable centres for cancer patients.
Twenty years after her death in 1996, some twenty centres have been built around Britain, with support from private organizations, by famous architects like Frank Gehry, Zaha Hadid, Norman Foster and Richard Rogers. Her conviction that powerful architecture can offer a consoling environment is shared by patients, nurses and visitors. Building Hope is a fascinating film about the search for architectural beauty as death approaches.
En:
Design That Heals
Alan Ricks, Thatcher Bean | US | 24'
Kan architectuur een bijdrage leveren aan de genezing van patiënten? Dr Jean William Pape een specialist op het gebied van infectieziektes in Haiti is er van overtuigd. 150.000 mensen kwamen om tijdens de aardbeving in Port au Prince in 2010 en tot overmaat van ramp breekt er daarna cholera uit. Dr. Pape gaat met de architecten van Mass Design Group op zoek naar een nieuwe methodiek in de bestrijding van de ramp. Met een bijzonder resultaat.
Can architecture help the healing process? Dr Jean William Pape, a specialist in the field of infection sicknesses in Haiti, is convinced it can. Some 150,000 people were killed by the earthquake in Port au Prince in 2010, and to make matters worse, an outbreak of cholera followed. Dr. Pape joins with the architects of Mass Design Group to search for a new method to tackle the disaster, with surprising results.
Deze voorstelling hoort bij: