LANTARENVENSTER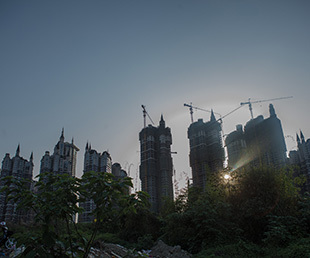 Special
DREAM EMPIRE
David Borenstein
DK
2016
73'
Chinees gespr.
Engels ond.
Deze voorstelling is verlopen
Om het vastgoed in de Chinese steden te verkopen, organiseert het bedrijf van Yana optredens van buitenlanders. Witte en zwarte mensen, zonder enige muzikaal talent, die spelen bij openingen en kijkavonden. Niet hun muziek is belangrijk, het draait om hun huidskleur. Buitenlanders zijn "bankable" exoten die de stad een internationaal karakter geven. Hoe internationaler de stad, meer geld vastgoed waard is.
In de Blade Runner-achtige stad Chongqing vertelt Dream Empire het hilarische verhaal over een van de vele uitwassen van de razendsnelle groei van China.
To sell property in Chinese cities, the firm Yana organizes performances by foreigners. White and black people, lacking any musical talent, who play at openings and open viewings. What matters is not their talent but their skin colour. Foreigners are 'bankable' exotics who lend the city an international character. The more international the city, the more valuable the property.
In the Blade Runner-like city of Chongqing, Dream Empire tells the hilarious story of one of the many excesses of the rapid growth of China.
Deze voorstelling hoort bij:


Architecture Film Festival Rotterdam 2017
Evenals:
Sadar+Vuga XX
The Road
Mundo Salamone: The Pampa Reinvented
Toon alle 20 voorstellingen