LANTARENVENSTER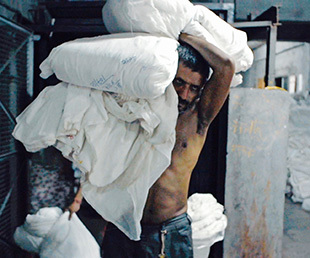 Special
MACHINES
Rahul Jain
IN, DE, FI
2016
75'
Engels, Hindi gespr.
Engels ond.
Deze voorstelling is verlopen
De Hel van Dante: In een goor en donker fabrieksgebouw in India staan mannen in grote stomende ketels te roeren. Anderen staan naast grote vaten met chemicaliën. Het is zwaar fysieke werk in een kledingfabriek in India, waar werkdagen van twaalf uur heel gebruikelijk zijn. "God gave us hands so we have to work", zegt iemand in de film.
De omstandigheden doen denken aan het Europa van de negentiende eeuw. Zijn dit nog mensen of zijn het machines. Denk nog eens na bij het kopen van je nieuwe spijkerbroek.
Dante's inferno. Men stir the contents of a huge cauldron in a dark and filthy factory building in India. Others stand beside big vats of chemicals. Work in a garment factory in India is physically hard, with workdays often lasting twelve hours. God gave us hands so we have to work, someone says in the film. The conditions recall the Europe of the 19th century. Are these still people or are they machines? Ask yourself that next time you buy a pair of jeans.
Deze voorstelling hoort bij:


Architecture Film Festival Rotterdam 2017
Evenals:
Didi Contractor - Marrying the Earth to the Building
Koudelka Shooting Holy Land
It's all a Plan
Toon alle 4 voorstellingen