LANTARENVENSTER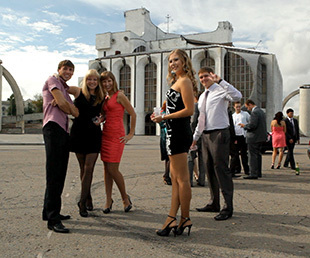 Special
THE NOVGOROD SPACESHIP
Andrei Rozen
RU
2016
46'
Russisch gespr.
Engels ond.
MET INLEIDING Deze voorstelling is verlopen
Aan de oevers van de Volgov, in het Russische stadje Novgorod, landt eind jaren zestig een bizar ruimteschip. Het Dostojevski Theater. Een modernistisch meesterwerk van onaardse proporties. Ooit bedoeld om de rek naar de grote steden tegen te gaan door het culturele leven van Novgorod te bevorderen. Veertig jaar later is het nog altijd een indrukwekkend gebouw dat herinnert aan de gouden jaren van de Sovjet-Architectuur. Maar de lokale bevolking is minder onder de indruk. Rustig kijken ze toe hoe het gebouw vervalt en onderdak biedt aan skaters en junks.
In een meeslepende film legt Andrei Rozen de ziel van de bevolking van Novgorod bloot en vertelt het verhaal van een uniek gebouw en een eigenzinnige architect.
On the banks of the River Volga, in the Russian city of Novgorod, a bizarre spaceship landed in the late 1960s. This was the Dostoevsky Drama Theatre, a modernist masterpiece of unearthly proportions. It was intended to halt the trek to the big cities by promoting the cultural life of Novgorod. Forty years later, it remains an impressive building that recalls the golden years of Soviet Architecture. But local people are less impressed. They calmly watch as the building deteriorates and attracts skaters and junks.
In this enthralling film, Andrei Rozen exposes the soul of the people of Novgorod and tells the story of a unique building by an idiosyncratic architect.
Voorfilm:
Bombastic Rubbish! The Theatres of Frank Matcham
Daniel Nils Roberts, Titas Halder | UK | 7'
Hilarische film over de architect Frank Matcham die meer dan 120 theaters ontwierp in Groot Brittanië. Frank Matcham? Nooit van gehoord? Na het zien van deze film wil je al zijn theaters bezoeken. Ach, Frank Matcham, waar was je al die tijd?
Hilarious film about the architect Frank Matcham, who designed more than 120 theatres in Britain. Frank Matcham? Never heard of him? After seeing this film you'll want to visit his theatres. Oh, Frank Matcham, where have you been all this time?
Deze voorstelling hoort bij:


Architecture Film Festival Rotterdam 2017
Evenals:
What We Have Made
Architectenweb Best of AFFR
The Man Who Built Cambodia
Toon alle 46 voorstellingen