LANTARENVENSTER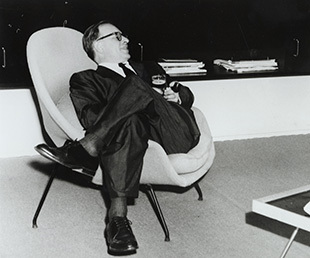 Special
EERO SAARINEN: THE ARCHITECT WHO SAW THE FUTURE
Peter Rosen
US
2016
60'
Engels gespr.
Deze voorstelling is verlopen
Meer dan wie ook wist Eero Saarinen het optimisme van het Amerika uit de vijftiger en zestiger jaren vorm te geven. Iconische voorbeelden als de St. Louis Gateway Arch, het General Motors Technical Centre in Michican en de net schitterend gerenoveerde TWA passengers terminal op Kennedy Airport staan voor de esthetiek van een hoopvolle toekomst.
Peter Rosen, fotograaf en zoon van Saarinen, biedt een unieke inkijk in leven en werk van zijn vader en grootvader Eliel Saarinen. Hij gaat in op een bevlogen periode en het abrupte einde daarvan toen Eero Saarinen in 1961, op het toppunt van zijn roem, plotseling overleed. Met bewoneraars als Kevin Roche, Robert Stern en Rafael Vinoly.
More than anyone else, Eero Saarinen succeeded in expressing the optimism of America in the 1950s and 1960s. Iconic examples like the St. Louis Gateway Arch, the General Motors Technical Centre in Michigan and the TWA passenger terminal at Kennedy Airport, recently renovated beautifully, symbolize the aesthetics of a bright future.
Peter Rosen, photographer and son of Saarinen, offers a unique glimpse into the life and work of his father and grandfather Eliel Saarinen. He explores an inspiring period and its abrupt end in 1961 when, at the peak of his fame, Eero Saarinen died suddenly. Featuring admirers such as Kevin Roche, Robert Stern and Rafael Vinoly.
En:
Stone Matters
Mikaela Burstow | AUS, IS | 11'
Hoe kan de computer worden ingezet om de toepassing van een eeuwenoud bouwmateriaal te verbeteren? Het resultaat is een wonderschoon paviljoen tussen de traditionele grauwe leemarchitectuur van Palestina. Een inspirerend voorbeeld voor de internationale architectuurgemeenschap.
Can the computer improve the use of a centuries-old construction material? This stunningly beautiful pavilion set amidst the traditional clay architecture of Palestine proves it can. An inspiring example for the international architecture community.
Deze voorstelling hoort bij:


Architecture Film Festival Rotterdam 2017
Evenals:
Istanbul Echoes
Bath People
Life and Death of an Architect
Toon alle 26 voorstellingen