LANTARENVENSTER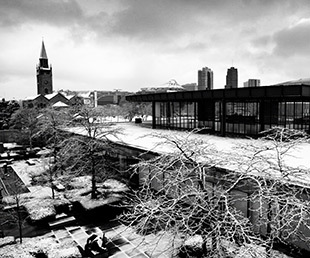 Special
THE NEW NATIONAL GALLERY
Ina Weisse
DE
2017
49'
Duits, Engels gespr.
Engels ond.
Deze voorstelling is verlopen
The New Nationalgalerie vertelt over Ludwig Mies van der Rohe en over de geschiedenis van zijn enige bouwwerk in na-oorlogs Duitsland Der Neue Nationalgalerie. Het is nu 55 jaar oud en dringend toe aan een opknapbeurt, maar hoe ga je om met een gebouw dat zo beladen is met geschiedenis.
David Chipperfield vertelt over de opgave voor renovatie en plaatst het gebouw in een nieuw verrassend daglicht.
Een absolute must voor Von der Rohe-liefhebbers.
The New Nationalgalerie examines Ludwig Mies van der Rohe and the history of his only building in post-war Germany: De Neue Nationalgalerie. Now 55 years old, the building badly needs an overhaul, but how should you handle a building so charged with history? David Chipperfield talks about the renovation project and places the building in a new and surprising context.
An absolute must for Van der Rohe fans.
Voorfilm:
Starship Chicago
Nathan Eddy, US, 16'
Het kreeg bij de opening in 1985 meteen de bijnaam Starship Chicago. Het State of Illinois Centre van architect Helmut Jahn was over de top, controversieel, exhuberant en veel te duur. Toch kwam het er en langzaam begon Chicago er aan te wennen. Maar de bezuinigingen bij de bouw wreken zich nu. De verf bladdert, het marmer verbrokkelt en het is voor velen rijp voor de sloopbal.
Wordt dit het lot van een fascinerend gebouw dat brak met alle tradities?
After the opening in 1985 it was immediately dubbed the Starship Chicago. The State of Illinois Centre by architect Helmut Jahn was over the top, controversial, exuberant and far too expensive. Even so, it was built and Chicago gradually got used to it. But cost-saving measures during construction are now taking their toll. The paintwork is peeling off, the marble is crumbling, and many people think it's time for the wrecker's ball. Will this be the fate of a fascinating building that broke with all traditions?
Deze voorstelling hoort bij: