LANTARENVENSTER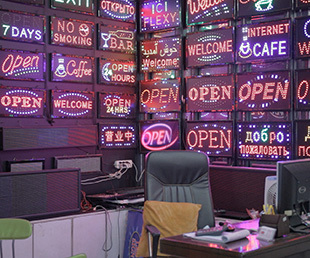 Special
BULKLAND
Daniel Whelan
AU, SE, CN, ES
2017
58'
Chinees gespr.
Engels ond.
Deze voorstelling is verlopen
Alles wat de wereld niet nodig lijkt te hebben komt hier vandaan. Yiwu is het kloppend hart van de productie van goedkope bulkgoederen. Knuffels, kerstmannen, emmertjes en schepjes, haarknipjes., het komt er allemaal vandaan. De mensen werken er keihard, met nauwelijks vrije dagen. Ondertussen vertelt een Engelsman triomfantelijk over zijn handel. Het werk dat hij aan China heeft uitbesteed en het belang van goede kwaliteit.
Een intrigerende documentaire over een extreem competitieve stad waar de inwoners zich proberen staande te houden in een race to the bottom.
Everything the world doesn't seem to need originates here. Yiwu is the beating heart of the production of cheap bulk goods. Teddy bears, Christmas decorations, buckets and spades, hairpins: it's all made here. People toil here very hard, with hardly any days off. In the meantime, an Englishman talks triumphantly about his business, the work he outsources to China, and the importance of good quality.
An intriguing documentary about an extremely competitive city whose inhabitants struggle for survival in a race to the bottom.
Voorfilm:
Green Island
Yu-Shen Su | DE | 36'
Aan het bouwen van gigantische spooksteden lijkt maar geen eind te komen. Of is er toch enig nieuw leven te ontdekken in deze enorme stapeling van stenen.
There seems to be no end to the construction of gigantic ghost towns. Or can we discern some sign of life in these huge concrete jungles.
Deze voorstelling hoort bij:


Architecture Film Festival Rotterdam 2017
Evenals:
The Hotel
The New National Gallery
Behind the Stone Wall
Toon alle 37 voorstellingen