LANTARENVENSTER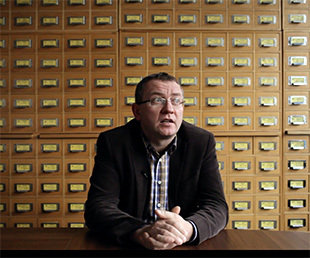 Special
BLOKI
Konrad Królikowski
PL
2014
57'
Pools gespr.
Engels ond.
MET INLEIDING Deze voorstelling is verlopen
Het verhaal over de gigantische appartementencomplexen (Bloki) die onder het communisme werden gebouwd. De verguisde blokken die aan duizenden mensen onderdak boden. De architecten van deze gebouwen vertellen over de ontstaansgeschiedenis en de bewoners ervan vertellen hoe de architectuur hun leven beïnvloedt. De overheid gaf een duidelijke taak aan de architecten die zich daar niet altijd zonder frustratie aan onderwierpen.
Een mooi verhaal over een verleden dat, ondanks alle treurig stemmende bloki niet door iedereen verguisd wordt.
The story of the gigantic apartment complexes, known as Bloki, built under communist rule. These reviled blocks were home to thousands of people. The architects of these buildings talk about how the blocks came about, while residents explain how they shaped their lives. The government set the architects a clear task, but they did not always submit without signs of frustration. A wonderful story about a past that, despite the depressing Bloki, is not reviled by everyone.
Voorfilm:
Aylesbury
Joe Gilbert | UK | 7'
Bij de bouw eind jaren zestig was het het grootste en meest ambitieuze sociale woningbouw project van Europa. Nu schijnt iedereen zich van de grouwe en vervallen betonkolossen af te keren. Een prachtige film die de geschiedenis en de onzekere toekomst van een bijzondere woonwijk in Londen laat zien.
At the time of its construction in the late 1960s, the Aylesbury Estate was the biggest and most ambitious social housing project in Europe. Now everybody seems to have turned against this drab and dilapidated concrete colossus. A wonderful film that reveals the history and uncertain future of this exceptional residential estate in London.
Deze voorstelling hoort bij:


Architecture Film Festival Rotterdam 2017
Evenals:
The Man Who Built Cambodia
Slumbering Concrete
Bowlingtreff
Toon alle 49 voorstellingen