LANTARENVENSTER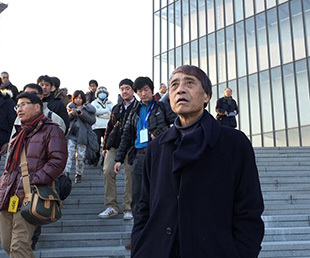 Special
SAMURAI ARCHITECT, TADAO ANDO
Shigenori Mizuno, Yu Nakamura
JP
2015
74'
Japans gespr.
Engels ond.
Deze voorstelling is verlopen
Tadao Ando's verstilde, minimalistische architectuur is een inspiratie voor velen. Niet officieel opgeleid als architect, maar wel als bokser, geeft hij lessen: je moet altijd je creatieve spieren blijven trainen en begin bij een ontwerp altijd bij de meubels. Aan de hand van een aantal iconische ontwerpen als The Row House, The Church of Light en Benneton's Fabrica vertelt hij over zijn liefde voor beton en de ervaring die een gebouw moet oproepen.
Een bijzondere film over een bijzondere architect.
Tadao Ando's calm, minimalist architecture is an inspiration to many. Though not formally trained as an architect, he offers advice like a boxing coach. Keep training your creative muscles and always start a design with the furniture. He reveals his love of concrete and the experience a building should evoke, as he discusses a number of iconic designs such as The Row House, The Church of Light and Benetton's Fabrica. A remarkable film about a remarkable architect.
Voorfilm:
Pingouins au Danemark
Florent Michel | 1'
Wat moet je als je als pinguïn op het dak van The Iceberg in Aarhus terecht bent gekomen? Jezelf wegschieten, terug naar de zuidpool?
What should a penguin do if he ends up on the roof of The Iceberg in Aarhus? Fire yourself all the way back to the South Pole?
Deze voorstelling hoort bij:


Architecture Film Festival Rotterdam 2017
Evenals:
Site of Sites
Five Seasons: The gardens of Piet Oudolf
Columbus
Toon alle 8 voorstellingen