LANTARENVENSTER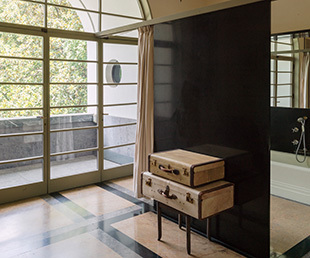 Special
L'AMATORE
Mauti Maria
IT
2016
90'
Italiaans gespr.
Engels ond.
Deze voorstelling is verlopen
De film over de Italiaanse architect Piero Portaluppi is ook een film over een verscheurd Italië in de fascistische jaren dertig en veertig van de vorige eeuw. Met films uit het familiearchief roept regisseur Mauti Maria een fascinerend beeld op van de machtige Milanese architect Portaluppi. Romantiek, de decadentie van de bourgeoisie, het opportunisme van de architect, het komt allemaal aan bod. Maar ook de schaduwzijde wordt belicht.
Een bijzonder oeuvre dat ontstond in een roerige tijd. L'Amatore reconstrueert het leven van een uiterst succesvolle architect van wie tot nu toe alleen een handvol anekdotes waren overgebleven.
This film about Italian architect Piero Portaluppi is also a film about a torn Italy during the fascist years of the 1930s and 1940s. With films from the family archive, director Mauti Maria creates a fascinating portrait of the powerful Milan architect Portaluppi. Romanticism, bourgeois decadence, the opportunism of the architect: it's all here. But the dark side of his remarkable oeuvre created in troubled times is also illuminated. L'Amatore reconstructs the life of an extremely successful architect, of whom just a handful of anecdotes had survived — until now that is.
Deze voorstelling hoort bij:


Architecture Film Festival Rotterdam 2017
Evenals:
Habitat: Personal Notes
Building Hope: The Maggie's Centres
I wanted to be Walt Disney
Toon alle 15 voorstellingen