LANTARENVENSTER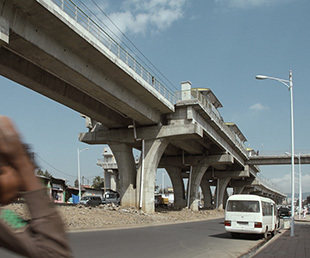 Special
CHINESE NEW FLOWER
Silvan Hagenbrock
ET
2016
31'
Engels, Duits gespr.
Engels ond.
MET INLEIDING Deze voorstelling is verlopen
Met een inleiding door Maarten Hajer.
Addis-Abeba dijt snel uit. In de laatste decennia heeft de stad zich helemaal opnieuw uitgevonden. Met dank aan de Chinezen. Nadat ze nieuwe wegen en een metrostelsel hebben aangelegd, volgden wolkenkrabbers en woonwijken. De hoofdstad van Ethiopië wordt een nieuwe bloem, precies als de betekenis van Addis-Abeba luidt. Chinese New Flower toont de razendsnelle verandering en onderzoekt hoe dat het leven in de stad verandert.
Addis Ababa is expanding rapidly. In recent decades, the city has totally reinvented itself, thanks to the Chinese. Skyscrapers and residential districts followed the construction of new roads and a metro network. The capital of Ethiopia is becoming a 'new flower', the exact meaning of Addis Ababa. Chinese New Flower captures the rapid transformation and explores how life in the city is changing.
En:
Cycologic
Elsa Lövdin, Emilia Stålhammar, Veronica Pålsson |
SE | 15'
Tegen alle raadgevingen in stapt Amanda op de fiets in de krankzinnige verkeerschaos van Kampala. Ze zet haar leven op het spel, maar geeft een voorbeeld hoe je de verkeersstromen in haar stad zou kunnen aanpakken.
Ignoring all advice, Amanda gets on her bike and pedals through the crazy traffic chaos of Kampala. She risks her life, but shows how you could tackle the traffic flows in her city.
Deze voorstelling hoort bij: