LANTARENVENSTER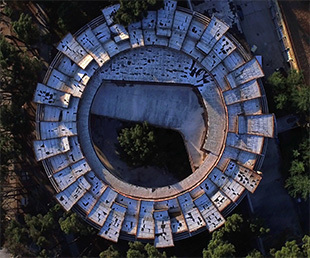 Special
SLUMBERING CONCRETE
Sasa Ban
HR
2016
50'
MET INLEIDING Deze voorstelling is verlopen
In de zestiger en zeventiger jaren was het toenmalige Joegoslavië een geliefde vakantiebestemming. Slumbering Concrete biedt een onthullende kijk op de opvallende architectuur die daar het gevolg van was. Utopische megaconstructies met hotels, zwembaden en flaneerboulevards die uit de studio's van de Thunderbirds leken te zijn ontsnapt.
Nu staan ze leeg en verlaten aan de kustlijnen van Kroatië, maar met deze aflevering van Slumbering Concrete vol aantrekkelijke archiefbeelden in Technicolor komt hun geschiedenis weer tot leven.
The former Yugoslavia was a popular summer destination during the 1960s and 1970s. Slumbering Concrete offers a revealing look at the striking architecture built during that period. Utopian megastructures with hotels, swimming pools and boulevards that look like sets from The Thunderbirds. They now stand empty on the coastline of Croatia, but this episode full of fascinating archival images in Technicolor brings their history to life.
En:
Concrete Utopia
Anna Ilin, Josefine Bingemer | DE | 18'
In 1963 verdween Skopje, in het voormalige Joegoslavië, door een aardbeving bijna volledig van de kaart. De film is een ode aan de wederopbouw in een fascinerende brutalistische stijl die werd ingegeven door een grote bewondering voor de Japanse architect Kenzo Tange.
In 1963 an earthquake wiped the city of Skopje in the former Yugoslavia off the map. This film is an ode to its reconstruction in a fascinating brutalist style inspired by a great admiration for the Japanese architect Kenzo Tange.
Deze voorstelling hoort bij: