LANTARENVENSTER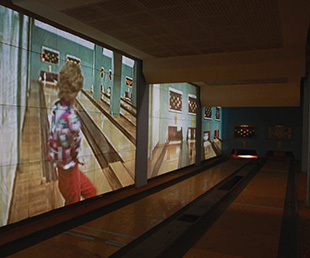 Special
BOWLINGTREFF
Thomas Beyer, Adrian Dorschner
DE
2015
62'
Engels, Duits, Italiaans gespr.
Engels ond.
Deze voorstelling is verlopen
Als Erich Honecker Bowlingtreff zou hebben gezien, zou hij het op wielen hebben gezet en naar Berlijn hebben verplaatst, memoreert een geïnterviewde de bowlingbaan in Leipzig. Gebouwd in 1987 betekende Bowlingtreff en kleine revolutie. De postmoderne architectuur van het gebouw is ongekend. Niet voor niets is de "godmother van het postmodernisme" Denise Scott Brown er enthousiast over.
De ambitie van de DDR om er bij te horen krijgt in deze onthullende film een bijna aandoenlijk karakter. Parket op de vloer, een glazen dak en roze pilaren: het wilde de rijkdom ademen van het perfide westen. Los Angeles in de DDR.
If Erich Honecker had seen Bowlingtreff, he would have put it on wheels and rolled it to Berlin, comments somebody as they recall this bowling alley in Leipzig. Built in 1987, Bowlingtreff unleashed a minor revolution. The postmodern architecture of the building was unprecedented, even drawing the admiration of the 'godmother van postmodernism' herself, Denise Scott Brown. In this revealing film, the DDR's ambition to keep up is almost touching. Parquet flooring, a glazed roof and pink columns: it sought to exude the wealth of the perfidious West. Los Angeles in the DDR.
Voorfilm:
Reko City (Reconstruction City)
Jörn Staeger | DE | 14'
Hoe herstellen we verwoeste steden? Een indringende rondgang langs grote Duitse steden die aan het denken zet over modern en traditie.
How should we rebuild destroyed cities? A probing tour of major German cities that gets you thinking about modernism and tradition.
Deze voorstelling hoort bij: