LANTARENVENSTER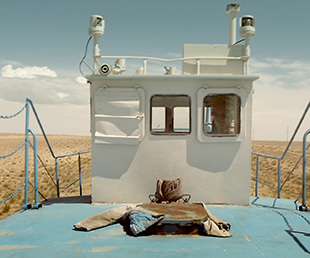 Special
SEA TOMORROW
Katerina Suvorova
KZ, DE
2016
82'
Russisch, Kazachs gespr.
Engels ond.
Deze voorstelling is verlopen
Het enige dat nog herinnert aan de woeste zee die de het Aralmeer ooit was, zijn de scheepsskeletten die verspreid over het dorre, apocalyptische woestijnlandschap liggen. Door landbouwprojecten van de Sovjet-Unie in de jaren vijftig en zestig is het meer op de grens van Kazachstan en Oezbekistan opgedroogd. Sea Tomorrow vertelt het verhaal van de bewoners die achter zijn gebleven. Een boer, een groep vissers en een biologe die mijmeren over het meer en proberen het oude leven te herstellen.
Sea Tomorrow is het aangrijpende verhaal over de gevolgen van klimaatverandering op het dagelijks leven.
All that reminds you of the fierce water that was once the Aral Sea are the shipwrecks that lie scattered around the barren, apocalyptic desert landscape. Agricultural schemes in the Soviet Union in the 1950s and 1960s caused this lake on the border between Kazakhstan and Uzbekistan to dry up. Sea Tomorrow tells the story of the inhabitants left behind. A farmer, a group of fishermen and a biologist muse about the lake as they try to restore a lost way of life. Sea Tomorrow is the gripping story of the effects of climate change on daily life.
Deze voorstelling hoort bij:


Architecture Film Festival Rotterdam 2017
Evenals:
Cholet
Citizen Jane: Battle for the City
Habitat: Personal Notes
Toon alle 12 voorstellingen