LANTARENVENSTER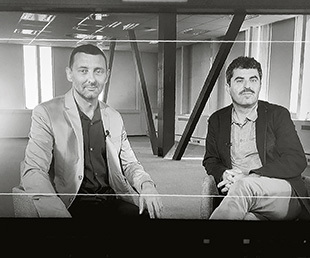 Special
SADAR+VUGA XX
Damjan Kozole
SI
2017
51'
Sloveens, kroatisch, Engels gespr.
Engels ond.
Deze voorstelling is verlopen
Na het winnen van een wedstrijd voor een nieuw ontwerp voor de Kamer van Koophandel krijgen de Sloveense architecten Sadar en Vuga te horen dat ze de opdracht alleen krijgen als ze een bureau beginnen. Het is de start van een zeer succesvolle samenwerking. Inmiddels is Sadar+Vuga een van de invloedrijkste bureaus van Slovenië en ontwerpen ze naast gebouwen ook interieurs, voetbalstadia en, parken. Daarbij worden alle facetten van creativiteit verkend en zelfs doorgevoerd in jaarrekeningen.
In de film vertellen de architecten en anderen over de ideeën die ten grondslag liggen aan hun gebouwen en hoe zij de nieuwe wind in Slovenië in hun werk willen laten terugkeren.
After winning a competition to design the Chamber of Commerce, the Slovenian architects Sadar and Vuga were informed that they could secure the commission only if they opened an office. That marked the start of a highly successful collaboration. Today, Sadar+Vuga is one of the most influential offices in Slovenia, designing not only buildings but also interiors, football stadiums and parks. Moreover, all aspects of creativity are explored and even implemented in the annual accounts. In the film the architects and others talk about the ideas behind their buildings and how they want the new wind blowing in Slovenia to echo in their work.
Voorfilm:
Azimut
Emiliana Santoro | IT | 16'
Een beeldverhaal over een Rome dat we niet kennen. Kleurrijk, modern en uitnodigend.
A picture story about a Rome we don't know. Colourful, modern and inviting.
Deze voorstelling hoort bij: