LANTARENVENSTER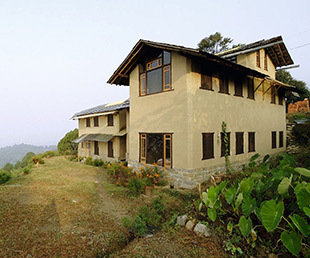 Special
DIDI CONTRACTOR - MARRYING THE EARTH TO THE BUILDING
Steffi Giaracuni
CH
2017
80'
Engels, Duits, Hindi gespr.
Engels ond.
Deze voorstelling is verlopen
Ze mag 84 jaar oud zijn, ze gaat onvermoeibaar door op de ingeslagen weg van een duurzame architectuur. De afgelopen twintig jaar heeft ze haar visie op architectuur toegepast in Noord-West India, in de Kangra vallei, aan de voet van de Himalaya. Een combinatie van lokale tradities en moderne eisen.
Deze inspirerende documentaire laat haar creaties zien: huizen van klei, bamboe en leisteen – gebouwd als eerbetoon aan de natuurlijke omgeving.
She may be 84 years old, but she's still working tirelessly on architecture that is sustainable. For the past two decades, Didi Contractor has been passionately implementing her architectural visions, combining rural traditions with modern requirements, in the Kangra Valley in the north-west of India, at the foothills of the Himalayas. This inspiring documentary introduces us to her creations — houses built from clay, bamboo, slate and river stone, constructed in tribute to their natural surroundings.
Deze voorstelling hoort bij:


Architecture Film Festival Rotterdam 2017
Evenals:
Machines
Koudelka Shooting Holy Land
It's all a Plan
Toon alle 4 voorstellingen