LANTARENVENSTER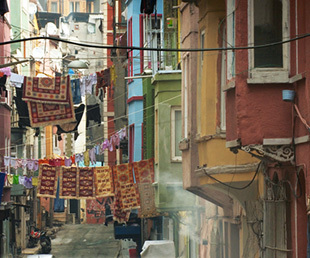 Special
ISTANBUL ECHOES
Giulia Frati
CA, FR, TR
2016
100'
Turks gespr.
Engels ond.
Deze voorstelling is verlopen
Het leven in Istanboel vindt op straat plaats. Een bakker bezingt zijn koopwaar, een mosselman rijdt met zijn kar langs de huizen. Het is de cultuur van de oude wijken. Maar de wijken zijn vervallen en worden gesloopt. De oorspronkelijke bewoners verhuizen naar nieuwe wijken met hoogbouw. De cultuur van de straatverkopers verdwijnt en daarmee de sociale cohesie en de identiteit van de wijken.
Een film die dwingt tot nadenken over de verworvenheden van nieuw en het verlies van oud.
Life in Istanbul takes place on the streets. A baker sings the praises of his products, a mussel seller pushes his cart from door to door. This is the culture of the old neighbourhoods. But they are dilapidated and set for demolition. Original residents are being relocated to new high-rise districts. As the culture of street traders disappears, so too does the social cohesion and identity of the neighbourhoods. A film that forces you to reflect on the achievements of the new and the loss of the old.
Deze voorstelling hoort bij:


Architecture Film Festival Rotterdam 2017
Evenals:
Windshield: A Vanished Vision
Eero Saarinen: The Architect Who Saw the Future
Bath People
Toon alle 25 voorstellingen