LANTARENVENSTER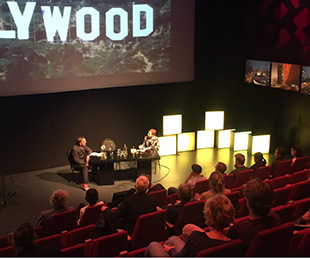 Special
MEET THE MAKERS - TALK SHOW
90'
Deze voorstelling is verlopen
Geen filmfestival is compleet zonder de aanwezigheid van filmmakers. Op vrijdagavond interviewen curator Jord den Hollander en journalist Tracy Metz een aantal van hen over hun fascinaties, de films die zij hebben gemaakt en de moeilijkheden waar ze tegenaan liepen. De makers gaan met elkaar in gesprek over de relatie tussen film, stad en architectuur.
Zorg dat je erbij bent; er komt ongetwijfeld een groot aantal tips voorbij voor films die je zeker gezien moet hebben.
No film festival would be complete without filmmakers. On Friday evening, curator Jord den Hollander and journalist Tracy Metz interview a number of them about their fascinations, the films they have made, and the difficulties they encounter. The makers discuss the relation between film, city and architecture. Make sure you're there. You'll come away with plenty of tips about films you certainly should see.
Deze voorstelling hoort bij: