LANTARENVENSTER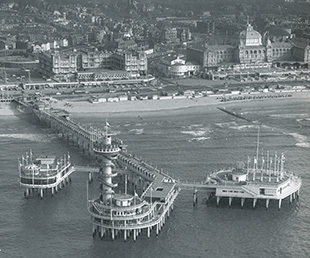 debat + film
STROOM DEBAT & THE PIER
120'
Deze voorstelling is verlopen
Met verschillende gasten en aan de hand van filmfragmenten debatteert kunstcentrum Stroom Den Haag over het belang van spel in de stad. In dit programma wordt de stad bekeken door de bril van spel. Architect Aldo van Eyck noemde zijn speelplaatsen 'tools for the imagination'. Oftewel spelen stelt je in staat om je de stad anders te verbeelden. Dat is niet alleen van belang voor kinderen, maar voor ons allemaal. Aansluitend vindt de wereldpremière plaats van The Pier over de pier van Scheveningen van Hugh Maaskant.
Using a selection of film fragments, art centre Stroom The Hague will discuss with various guests the importance of play in the city. In this programme, the city is viewed through the lens of play. Architect Aldo van Eyck called his playgrounds 'tools for the imagination'. In other words, play enables you to imagine the city differently. This is important not only for children but for all of us. The discussion will be followed by the world premiere of De Pier (Jeroen Visser, 2017) about the Scheveningen Pier designed by Hugh Maaskant.
The Pier
Jeroen Visser | NL | 2017 | 45'
Met veel goodwill en overmoed kun de Pier van Scheveningen zien als het Coney Island van Nederland. Net als de Euromast werd de Pier door H.A. Maaskant ontwerpen met geen ander doel dan recreatie. Maar van de grote populariteit is vijftig jaar later niets meer over. Vele pogingen werden ondernomen om het gedateerde bouwwerk te redden van de ondergang. Met een nieuwe eigenaar gloort er nu toch weer hoop.
With a healthy dose of goodwill and bravura, you could view Scheveningen Pier as the Coney Island of the Netherlands. Like the Euromast, the pier was designed by Hugh Maaskant with no other aim than recreation. But fifty years later, none of its huge popularity remains. Many efforts were made to reverse the outdated structure's decline. A new owner now offers renewed hope.
Deze voorstelling hoort bij: