LANTARENVENSTER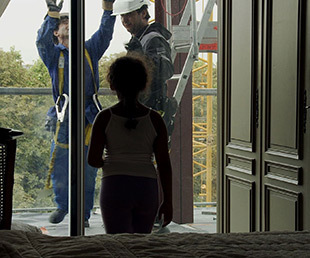 debat + film
HIGH RISE EVENT
SLIGHTLY MODIFIED HOUSING
Guillaume Meigneux
FR
2013
76'
Frans gespr.
Engels ond.
Deze voorstelling is verlopen
De film Slightly Modified Housing laat de renovatie zien van een sterk verouderd zestien etages tellend appartementencomplex in Parijs door het beroemde architectenbureau Lacaton en Vasalle. Over deze renovatie en andere manieren om hoogbouw te renoveren wordt tijdens dit programma doorgepraat.
Klaas de Boer, voorzitter van Stichting Hoogbouw, wordt na afloop geïnterviewd door curator Jord den Hollander. De stichting probeert door kennis te delen het denken over hoogbouw in Nederland naar een hoger plan te tillen.
How do you deal with a sixty-year-old, severely dilapidated apartment colossus? The celebrated French architecture office Lacaton & Vassal devised a plan for the renovation of the Bois-le-Prêtre block by architect Raymond Lopez in the 17th arrondissement in Paris. The redevelopment sent shockwaves through the community of residents. An almost impossible project, but the result was unprecedented: the building won the Design of the Year Award in 2013.
En:
Grenfell
Joe Gilbert | UK | 4'
De ramp van de brand in de Grenfell Tower in Londen bracht niet alleen falend bouwtoezicht aan het licht, maar vooral de schrijnende sociale omstandigheden van de bewoners. De film plaatst de uitwas van 'million dollar appartments' overal in de stad tegenover het drama van de uitgebrande Grenfell Tower.
The Grenfell Tower fire disaster in London not only exposed a failing system of construction supervision but also the dire social conditions of residents. This film contrasts the excesses of million dollar apartments all over the city with the drama of the Grenfell Tower fire.
Deze voorstelling hoort bij:


Architecture Film Festival Rotterdam 2017
Evenals:
The Art of Recovery
GoGo Penguin
Stroom debat & The Pier
Toon alle 56 voorstellingen