LANTARENVENSTER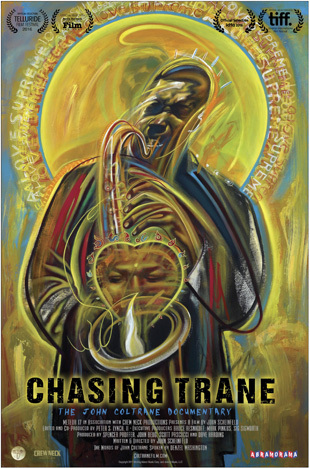 Special, Muziek
CHASING TRANE: THE JOHN COLTRANE DOCUMENTARY
John Scheinfeld
VS
2016
99'
Engels gespr.
niet ond.
Deze voorstelling is verlopen
Een gepassioneerde film over een out of the box-muzikant wiens grensverleggende en soms revolutionaire muziek nog altijd van invloed is op mensen over de hele wereld. Net als zijn grote voorbeeld Charlie Parker (en veel andere jazzmuzikanten in zijn tijd) raakt Coltrane verslaafd aan drugs. Dat komt hem op ontslag te staan door Dizzy Gillespie en later ook Miles Davis. Nadat hij cold turkey afkickt, komt Coltrane sterker terug dan daarvoor. Hij begint aan een creatieve, artistieke, spirituele muzikale reis die hem voert naar A Kind of Blue, Alabama en zijn meesterwerk A Love Supreme. Het is vooral deze Coltrane die in de film ruim baan krijgt.
Voor dit eerbetoon aan een van de grootste saxofonisten ooit heeft regisseur John Scheinfeld een sterrencast aan familieleden, vrienden en collega muzikanten bijeengebracht. Coltrane's kinderen, maar ook Wayne Shorter, Reggie Workman, Jimmy Heath en Sonny Rollins getuigen van Coltrane's genialiteit als muzikant en zijn warmte als vriend en vader.
Naast unieke en bijzondere beelden komen bijna vijftig opnamen voorbij. De makers (o.a. The U.S. vs. John Lennon, Leonard Cohen - I'm Your Man en Jimi Hendrix: Hear My Train a Comin') mochten vrijuit putten uit de archieven van Prestige, Blue Note, Atlantic, Pablo en Impulse.
"Chasing Trane illuminates the spirit of John Coltrane for us all to understand and enjoy. Just being in the man's presence for an hour and a half will probably make you a better person" - The Observer
"The genius of John Coltrane comes to life in an elegantly crafted documentary that can hook jazz novices as well as connoisseurs….You could walk into this movie knowing nothing about Coltrane and walk out an impassioned convert." - Variety
Deze voorstelling hoort bij: