LANTARENVENSTER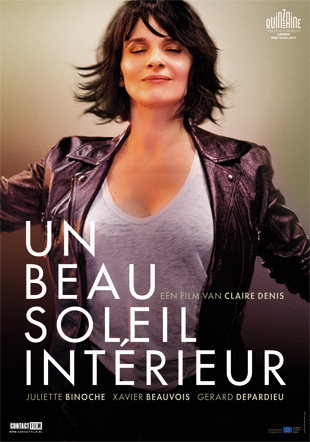 Film
UN BEAU SOLEIL INTÉRIEUR
Claire Denis
Frankrijk
2017
94'
Frans gespr.
Nederlands ond.
3E WEEK
VANDAAG | 14:00
alle vertoningen

>
KOOP KAARTEN
Un beau soleil intérieur volgt vijftiger Isabelle, een gescheiden moeder en kunstenares in Parijs. Ze is niet in staat om te beslissen of het zoeken naar die Ene man – de 'ware' – een urgentie is of doelloze dwaasheid. Isabelle frequenteert bars, restaurants, galeries en theaters, intussen mijmerend over haar liefdesleven.
Obsessief, cynisch en romantisch tegelijk, gaat ze met verschillende mannen een liaison aan. Een getrouwde bankier, een zelfbewuste acteur, een sensitieve kunstenaar en ook haar ex passeren de revue. Zo hoopt ze de ware liefde tegen te komen.
Uiteindelijk belandt ze op de bank van een new-age-therapeut (Depardieu) in de hoop van hem te horen welke keuzes ze moet maken.
Claire Denis en Christine Angot putten uit hun eigen levenservaringen en werden geïnspireerd door Roland Barthes Fragments d'un Discours Amoureux (1977).
Met: Juliette Binoche, Xavier Beauvois, Philippe Catherine, Nicolas Duvauchelle, Gérard Depardieu