LANTARENVENSTER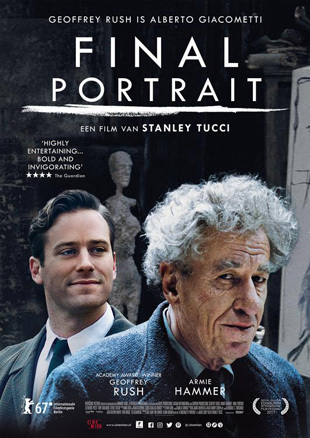 Film
FINAL PORTRAIT
Stanley Tucci
Verenigd Koninkrijk
2016
90'
Engels gespr.
Nederlands ond.
PREMIÈRE verwacht vanaf do  7 dec
De totstandkoming van het laatste meesterwerk van Alberto Giacometti, vastgelegd door de award-winnende regisseur Stanley Tucci (bekend van Big Night en Blind Date).
Stap in de wereld van de wereldberoemde kunstenaar Alberto Giacometti en maak kennis met zijn uitgesproken persoonlijkheid, humor, werkwijze, favoriete tijdverdrijf en spitsvondige manier van communiceren. We volgen de kunstenaar gedurende twee weken in het Parijs van de zestiger jaren.
Giacometti wil een portret van zijn Amerikaanse vriend schilderen, de bekende schrijver en kunstcriticus James Lord. Zijn belofte dat het maar een paar uur duurt, kan hij niet waarmaken. James mist zijn vlucht. En de paar uren worden al snel dagen. Lord krijgt inzicht in de werkwijze van de kunstenaar en we zien de strubbelingen en frustraties in het proces en de uiteindelijk totstandkoming van Giacometti's laatste meesterwerk.
Met hoofdrollen voor Geoffrey Rush (The King's Speech), Armie Hammer (Nocturnal Animals) en Clémence Poésy (Harry Potter and the Deathly Hallows).