LANTARENVENSTER
BEZOEKERS
LantarenVenster
Otto Reuchlinweg 996
3072 MD Rotterdam
Kassa: 010 - 277 22 77
Bereikbaar tussen 14:00 en 18:00
Routebeschrijving
Openbaar vervoer:
Vanaf Rotterdam Centraal kunt u zowel met de metro reizen (Lijn D, E) als met de tram (lijn 20, 23 en 25). Uitstappen bij halte Wilhelminaplein. Vanaf daar is het vijf minuten lopen, of kunt u eventueel met bus 60 tot voor de deur reizen. Plan uw route.
Met de auto:
Klik op onderstaand kaartje en gebruik de functie 'routebeschrijving' op Google Maps: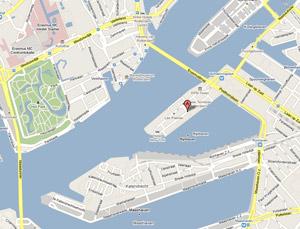 Parkeermogelijkheden
Rondom LantarenVenster zijn diverse parkeerterreinen te vinden. Op straat geldt betaald parkeren van maandag tot en met zaterdag van 9:00 tot 23:00 en op zondag van 12:00 tot 23:00. De kosten zijn € 0,50 per 10 minuten. De betaalautomaten accepteren chipknip, creditcard of 06-parkeren. De dichtstbijzijnde chip-oplader bevindt zich naast het Nieuwe Luxor. U kunt alleen parkeren in daarvoor bestemde parkeervakken.
Parkeergarage World Port Center
Aan de kassa zijn uitrijkaarten verkrijgbaar voor de parkeergarage van het World Port Center (P3). De parkeergarage is geopend van 6:30 tot 23:30 om in te rijden. Het is mogelijk 24 uur per dag uit te rijden.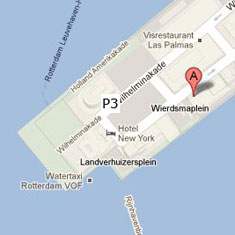 Inrijden
Neemt u bij binnenkomst een parkeerkaart.
Uitrijden
Voor de parkeergarage zijn aan de kassa van LantarenVenster uitrijkaarten te koop à € 7,50. Bij het uitrijden gebruikt u de uitrijkaart. U hoeft niet langs de betaalautomaat.
Meer info over deze parkeergarage.
Q-Parkgarage Maastoren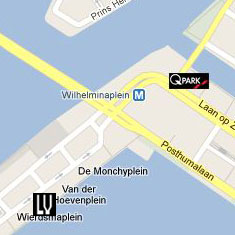 Op loopafstand van LantarenVenster bevindt zich de Q-Parkgarage Maastoren.
Op dit moment zijn er geen uitrijkaarten in LantarenVenster verkrijgbaar.
Meer info over deze parkeergarage.
Watertaxi
Op de Wilhelminapier bevinden zich de haltes:
- Hotel New York Wilhelminapier
- Luxor Wilhelminaplein
Klik voor een overzicht van alle opstapplaatsen in Rotterdam.
Mindervaliden
In het nieuwe pand van LantarenVenster zijn voldoende faciliteiten om een bezoek voor mindervaliden mogelijk te maken. Het gebouw beschikt over een lift (breed 85 cm, diep 120 cm), een mindervalidentoilet en in de verschillende zalen zijn rolstoelplekken gecreëerd.
Door de indeling van het gebouw is het echter lastig en niet mogelijk om u als mindervalide zelfstandig door het pand te verplaatsen.
Onze medewerkers zijn te allen tijde bereid om u te begeleiden.
Om een bezoek voor u ook zo aangenaam mogelijk te maken, adviseren wij u om uw bezoek vooraf telefonisch aan te kondigen bij de kassa op nummer 010-2772277.