LANTAREN VENSTER
Eten&drinken
De royale foyer van LantarenVenster is dé ontmoetingsplek van het theater. U kunt hier, in een dynamische ambiance, genieten van het uitzicht op de Rijnhaven. En bij mooi weer kunt u op het terras aan het water zitten.
Naast een kopje koffie, glas verse muntthee of borrel serveren we lunch en diner. Uiteraard kunt u uw bezoek aan een concert of filmvoorstelling prima combineren met een hapje eten.
Houd er rekening mee dat het 's avonds druk kan zijn. Kom vroeg - zeker wanneer u nog een film of concert wilt bezoeken. Wanneer er niet genoeg tijd of ruimte is voor de voorstelling te eten, laten we u dat weten. Op sommige dagen kunt u dan eventueel na de voorstelling eten.
Er kan niet gereserveerd worden.
Ook wanneer u geen concert of filmvoorstelling bezoekt bent u natuurlijk van harte welkom voor een hapje of drankje!
Openingstijden
De keuken is dagelijks geopend vanaf 11:30 en op zondag vanaf 10:00 uur. Op de eerste zondag van de maand zijn we geopend vanaf 9:30, voor de Film&ontbijt-voorstelling.
De keuken is dagelijks geopend tot 21:00.
Film&Food
Hapje eten voor de film? U kunt van zondag tot en met woensdag bij de kassa terecht voor een Film&food- kaartje. Hiermee geniet u van een hoofdgerecht plus een film naar keuze. Festivalfilms zijn uitgezonderd.
Het kaartje is alleen op de dag zelf verkrijgbaar aan de kassa voor € 19, zolang er plaats is in het restaurant. De aanbieding geldt niet op donderdag, vrijdag en zaterdag. Het is niet mogelijk om (online) gekochte kaartjes voor film om te ruilen tegen Film&food-kaartjes.
Film&ontbijt
Elke maand kunt u op zondag ontbijten in LantarenVenster en daarna genieten van een voorpremière!
Om 9:30 opent de kassa
U bestelt uw ontbijt tussen 10:00 en 11:00 uur
Om 11:30 ziet u als een van de eersten een film die pas later in première gaat
e-tickets à € 17,50 zijn via de website te verkrijgen. Het e-ticket wisselt u aan de kassa vanaf 9:30 om voor een Film&ontbijt-kaartje.
Het ontbijt bestaat uit diverse soorten beleg en broodsoorten, koffie, thee en verse jus.
Omdat het bij Film&ontbijt om een specifieke voorstelling gaat, is het mogelijk online kaarten te kopen. Dit geldt niet voor Film&food, dit kaartje kan met meerdere films gecombineerd worden en is daarom alleen verkrijgbaar aan de kassa.
Er kan niet gereserveerd worden.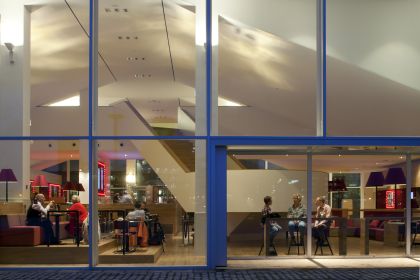 de foyer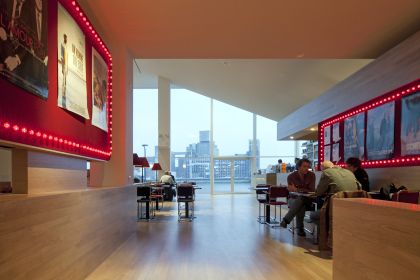 het uitzicht
Fotografie: Luuk Kramer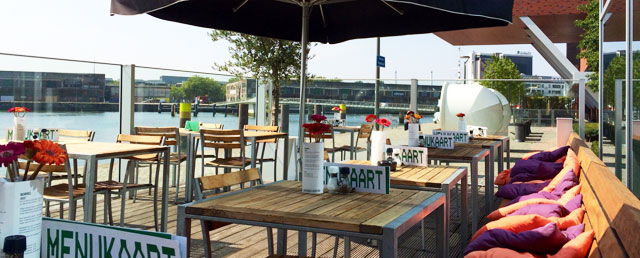 het terras
Menu
Bekijk de menukaart (pdf)
Bekijk de drankenkaart (pdf)
Prijswijzigingen onder voorbehoud